There are several essential marketing tactics for making an eCommerce business grow. Advertising is certainly one of the key components for scaling and improving your brand, while accelerating the process of business maturity. Let's explore how to use advertising as a power tool for business growth.
Reach your ideal customer
As an upcoming brand, you need to explore new ground and increase awareness in order to grow. Therefore you need to reach new audiences and increase familiarity upon this group. Advertising can essentially function as the bridge between you and these potential customers. The more people know about your brand, the more you will sell. Over time you might shift your advertising objectives from brand awareness to revenue. If you want to create sustainable growth, advertising is part of your long term business strategy.

| Phase | Objective | Customer Stage |
| --- | --- | --- |
| Start | Increase brand awareness | Awareness & Interest |
| Grow | Upscaling revenue & exploring new audiences | Desire & Action |
| Optimize | Retaining market share and improving product/brand | Desire & Action |
Grow your revenue by scaling up campaigns
The startup phase can be a challenge to overcome, since you can't always expect advertising to be profitable right away. But it should be seen as an investment for growing your business, short and long term. The moment your advertising audience gets familiar with your brand, you will see that room is appearing in the margins. This is the tipping point.

Steering your campaigns on return on ad spend (ROAS) is essential for growth. Profitable campaigns can be scaled up and have a direct impact on your revenue (especially when you are in eCommerce and/or SaaS). From here you can create a growth loop where you invest parts of the revenue back into winning campaigns.

Furthermore, an advertising funnel is never ever-green, so you need to keep experimenting as well. The advertising growth model below will give you an idea of how this process works.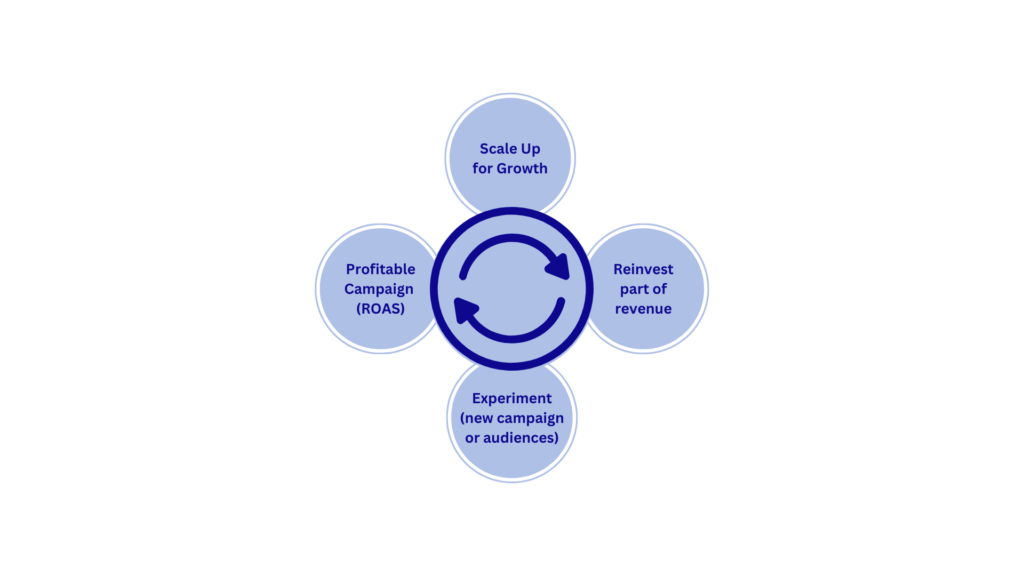 Improving your product
Reaching large groups of people by using advertising has some additional benefits as well. It provides you with a lot of intel about your brand or product. For instance: what proposition is working best, which products are creating most traction and what is the brand attitude of your target audience? This data supports you into your business decisions as well. No more steering on gut feeling, but data driven decision making.
This data driven approach is very valuable and facilitates you to experiment around your product or service, your communication and customer journey. It accelerates you toward more business maturity by continuously optimizing for best 'product market fit'.
At Mind for Business we help eCommerce brands on a daily basis with scaling up. We see three pillars of specific importance for a growth strategy: strategic paid advertising structures, appealing visual content and a high converting website design. We combined our learnings into a Growth Blueprint in which we discuss the essentials for a successful strategy. If you are eager to grow your brand, make sure to download it here.